Regular price
Sale price
€140.00
Unit price
per
%
Sold Out
Heavyweight pure virgin sheep's wool blanket, designed in Ireland and sustainably woven on semi-automatic looms in the glorious Rhodope Mountains of south-central Bulgaria.
The blanket is really warm, fat, and ideal for camping but it can also be used indoors. It will keep you cozy wherever your adventures take you, even if that's just in front of your fireplace.
The blanket weighs 2.6kg - 5.6lbs, with a density of 740GSM (that means nice and thick).
Our heavyweight blankets are inspired by the blankets used by the Canadian Indian Tribes, a beautiful replica of the iconic Hudson's Bay point blankets. They are very warm and soft, perfect for those cold winter nights. During production, the blankets are shrunk in water to a desirable size, thus the final product is denser and heavier with extraordinary warmth.
Please Note: With these blankets, it's necessary to take into account that the size of the blanket is indicative and the actual size can differ from the stated one by 3%. This is given by the manufacturing method where the last technological step of the process is a water bath during which the blankets are shrunk to the required size. Wool's behaviour in the water bath is not 100% predictable and so it can result in the mentioned difference.
View full details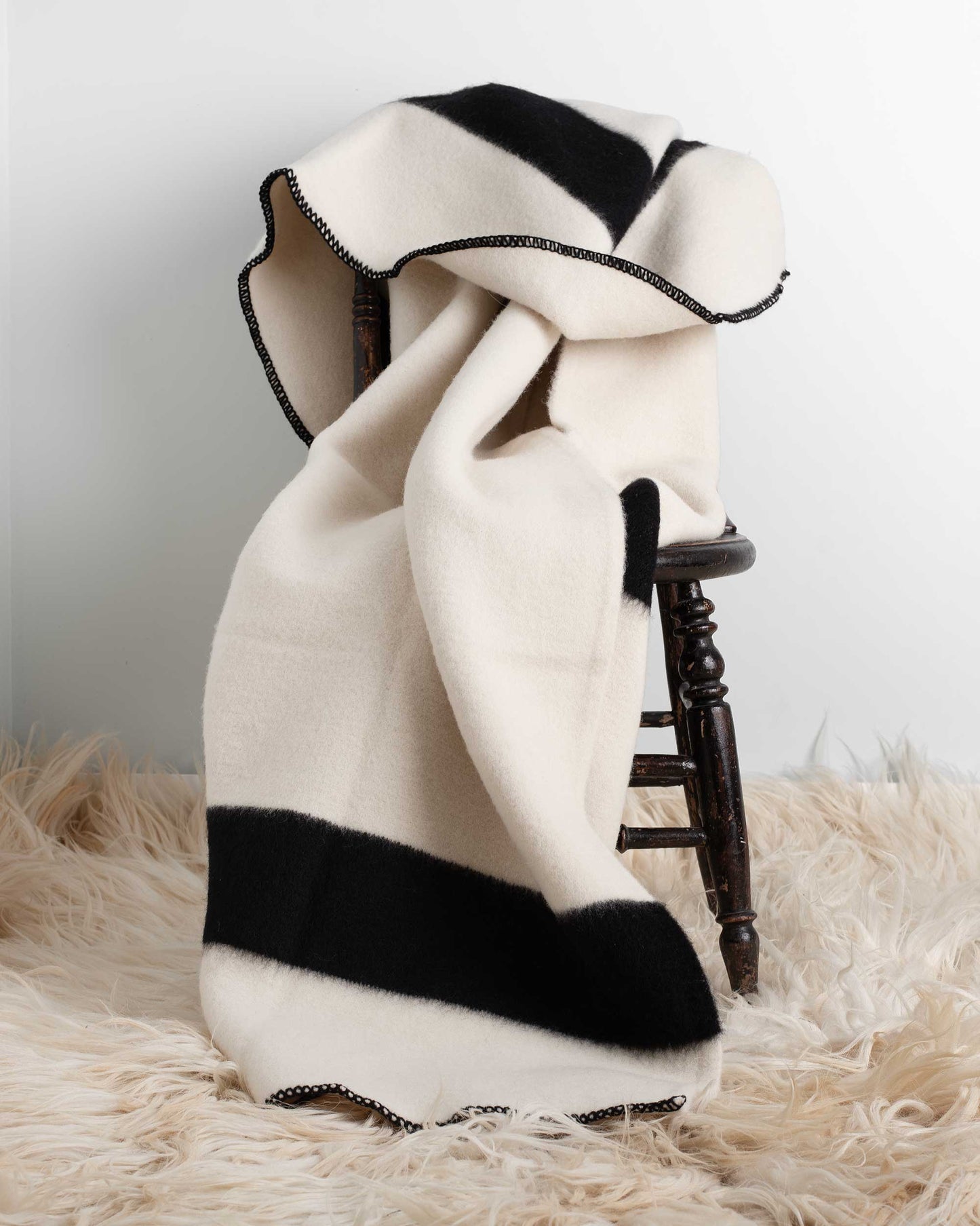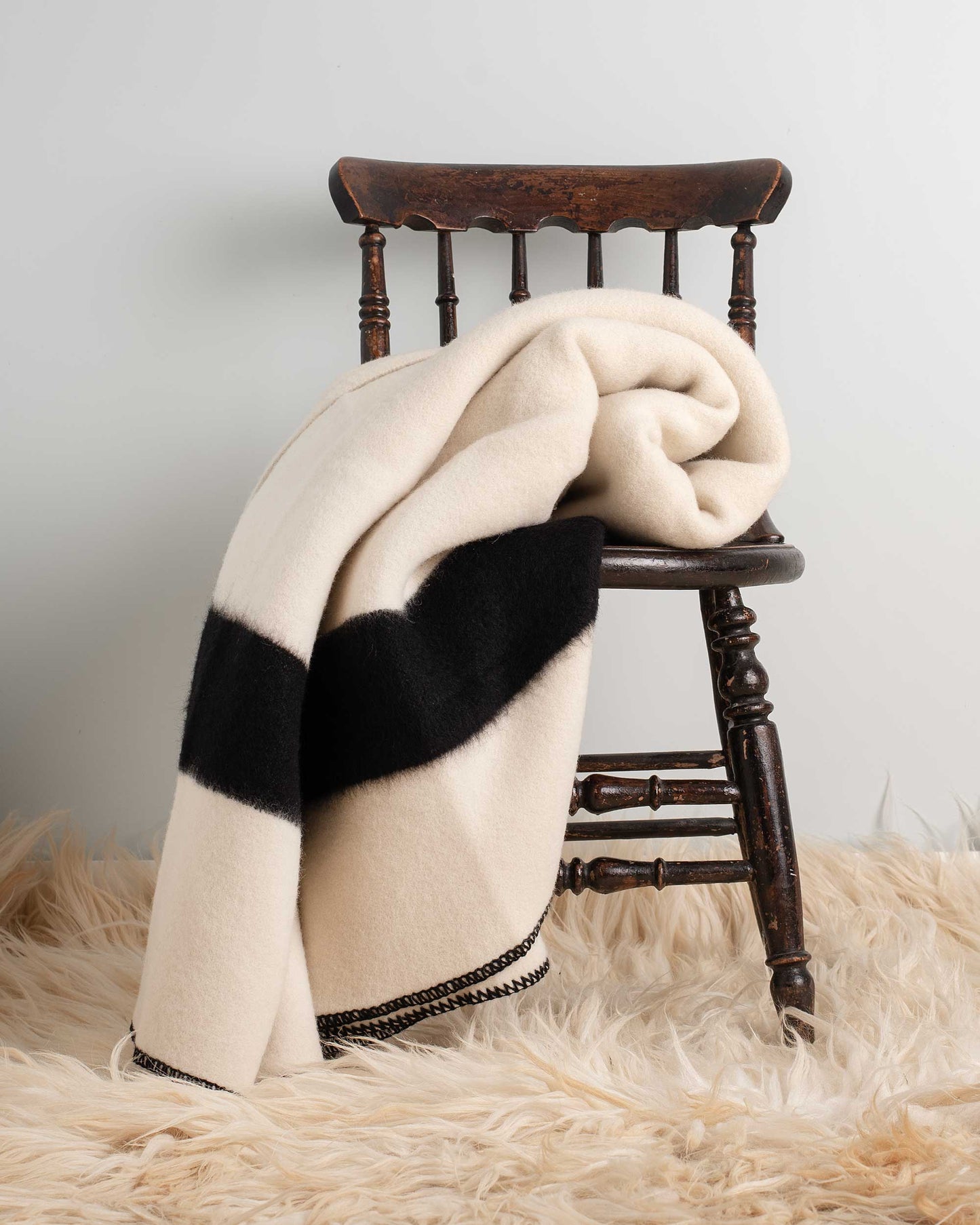 | | |
| --- | --- |
| Size | 160 x 220 cm | 63" x 86" |
| Material | Virgin Sheep Wool |
| Softness | Classic - made of 28 μm (microns) sheep wool. The softer sensation is achieved by combing out the surface so the blanket feels very soft. |
| Use | Suitable for both indoor and outdoor use, bedroom, sofa, cottage, cabin, camping, survival & travel. |
| Design | Plain weave, finished with overlock blanket stitch. Carded and Felted. |
| Colour | Unbleached & undyed natural white with black stripes. |
| Weight | 2.6kg | 5.6lbs - 740g/m2 |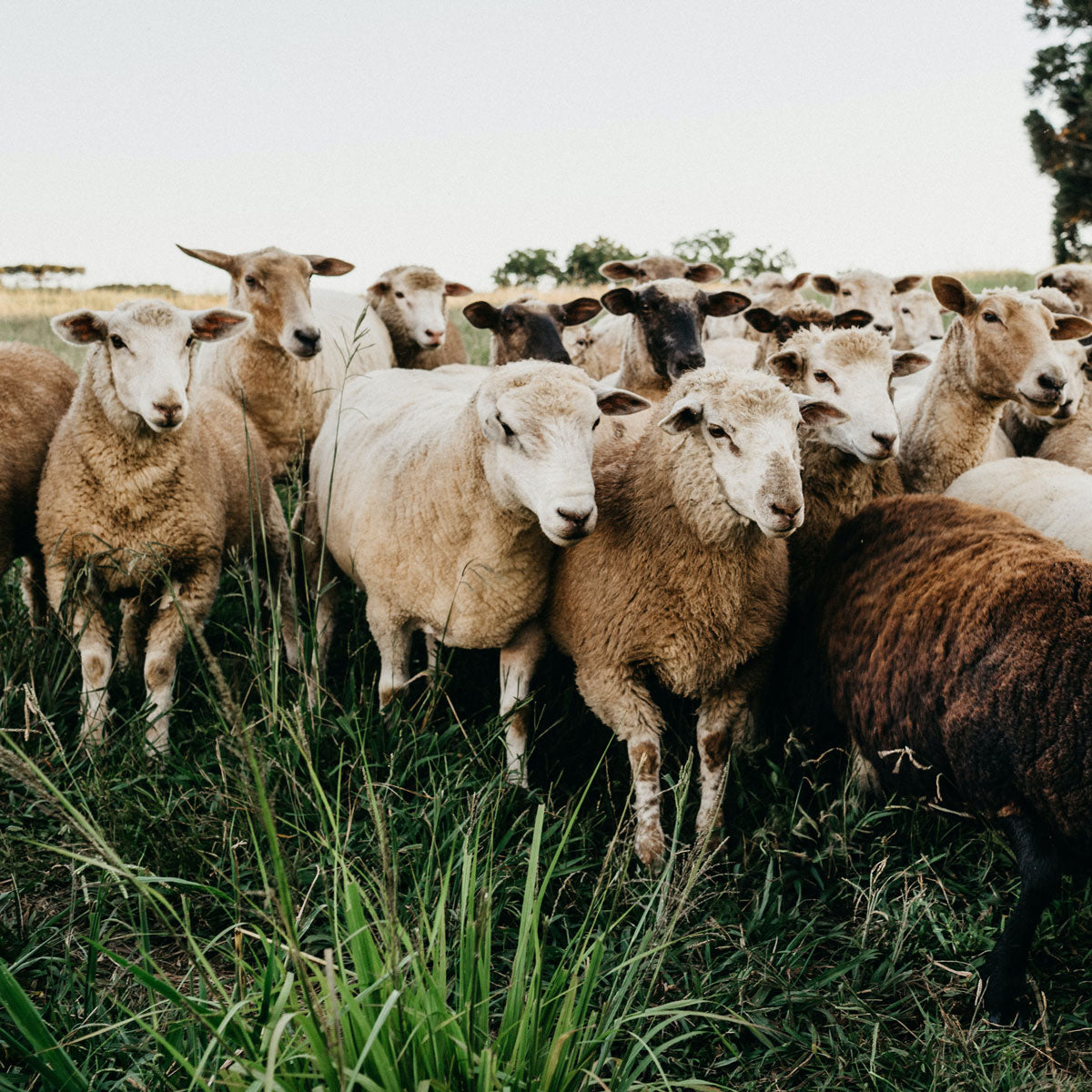 Our Wool
Our sheep wool is locally sourced from a small and independent wool grower, and it is fully traceable.
From the skirting to the carding and the spinning, all is done in our mill.
The wool is not bleached with hydrogen peroxide, not chlorine treated, and not carbonised with sulphuric acid. Pure soap and hard work, that's all it is! The chosen method of processing is much heavier but it ensures high quality and is environment friendly.